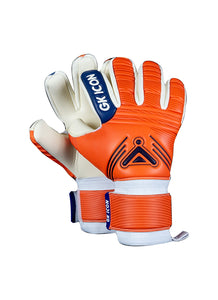 ON SALE NOW! - While Supplies Last!

This striking glove has been developed to help goalkeepers rise through the ranks. Based on its big brother the Apex II, the rise glove features the same technology whilst making you stand out from the crowd with the bright orange and blue colourway. 
The rise features a 4mm maximal contact negative cut palm and full latex backhand giving the perfect blend of flexibility and support. 
A double wrap thumb helps provide protection and stability along with a bandage wrist entry and full latex wrist strap. 
Technical Specs 
Junior 4-7, Adult 8-11, Palm- Maximal Contact, Backhand- Full German Latex, Wrist Strap- Single wrap latex strap, Cut: Negative Cut, Body: Airmesh, Finger Protection- No